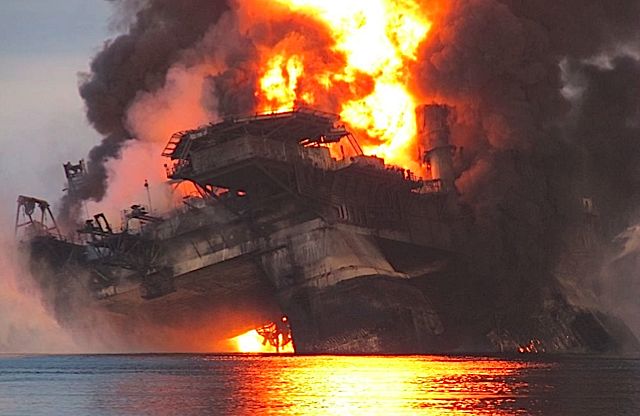 Above is a picture of the Deepwater Horizon oil disaster. You may remember it. John Browne was not CEO of BP when the disaster happened and so managed to keep himself out of the limelight – even though he was the CEO of BP that cut costs so much that the oil company seriously compromised its safety processes leading up to this disaster.
In fact his cuts are said to have resulted in a string of disasters, the last and greatest of which was Deepwater Horizon, which happened some time after he left the company in the hands of his protege Tony Hayward. The Evening Standard, in a comment entitled Beware of Lord Browne the outsourcing cost cutter pointed out that:
The present chief executive, Tony Hayward, is the man in the firing line for this, but the culture of the company — heavy reliance on outsourcing to reduce cost — is very much the creature of Lord Browne. Browne was a legendary cost cutter and applauded for it at the time, but the downside of his policies was evident long before he retired with the Alaska oil spill and the Texas oil refinery explosion. Now, thanks to outsourcing so much, BP admits it no longer has the in-house expertise easily to deal with a disaster on this scale. Thus any cost savings from outsourcing the Gulf drilling to Transocean have long since been outweighed by the damage to BP's share price and reputation, let alone the cost of the spill itself.
The New York Times is even harsher on John Browne:
Mr. Browne had built BP by taking over other oil companies, like Amoco in 1998, and then ruthlessly cutting costs, often firing the acquired company's most experienced engineers. Taking shortcuts was ingrained in the company's culture, and everyone in the oil business knew it. The accidents should have been the wake-up call BP needed to change that culture. But the mistakes and negligence that took place on the Deepwater Horizon in the Gulf of Mexico — which are so profound that everyone I spoke to in the oil business found them truly inexplicable — suggest that the two men never did much more than mouth nice-sounding platitudes.
See the whole article here: BP Ignored the Omens of Disaster
And here is some information on the Texas Oil Refinery explosion and the Alaska Oil Leak .
So the idea that John Browne was a successful businessman probably depends on us regarding his personal wealth (estimated at £45 million) as the criteria of success rather than his business practices. Never mind. Perhaps he's not so 'successful' after all but at least he knows how to get things done efficiently, right?